Company, Values,
Vision

,

Future
Discover how we started our story in 2006 and how we specialised in fashion and pharmaceutical logistics.
,,In 2006 the Eltra Logis story came to life. We started with one warehouse in Romania, Albota – an excellent location logistically for a geographical area like Romania – and we have grown to have multiple warehouses in both Romania and Spain.
With an incredible network of partners across Europe we have expanded and perfected our services to state of the art standards: Cross Dock, Logistics, Warehousing and Handling, Fashion, Pharmaceuticals and High Value Goods.
We could not have got here without our partners and our ambition for progress, which can be seen from our numerous quality certifications and extremely high standards. At Eltra Logis, because "details make the difference", we had to make sure that the details of our services are respected down to the smallest detail.
Our mission is to offer unique services on the market, in quality groups with attention to details for a mutually beneficial relationship that generates prosperity
In order to satisfy the needs of our clients, we offer them a very modern fleet and an extensive network of subcontractors and correspondents, who work under the responsibility and the control of our company.
We have more than 2.000 m2. We are able to deposit/gather all your goods, taking into account other related activities you may need to develop in between.
Eltra Logis has a warehouse with a capacity of approximately 140.000 products on hangers. The prices are fixed punctually with our logistics department."
Elena Jianu C.E.O. of Eltra Logis Cluster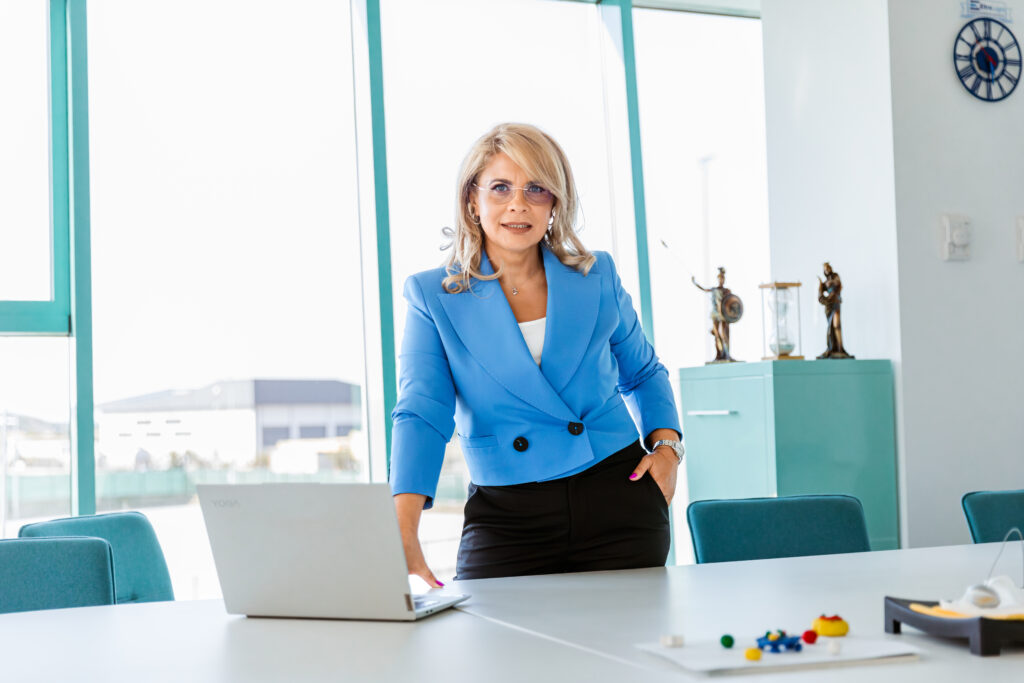 Our values underpin cooperation both within internal teams and between strategic business partners. The corporate culture we develop revolves around these pillars of values.
"Achieving Beyond Limits" – Elevate performance by embracing 100% responsibility for exceptional results, embracing challenges with unwavering determination, and continuously striving for improvement.
"Navigating Change with Precision" – Embrace change with a responsive mindset, make swift decisions and take action, and remain flexible even under pressure, fostering adaptability at every turn.
"Nurturing Development Together" – Foster growth by continuously developing oneself, team members, the business, clients, suppliers, and the community. Cultivate a feedback-driven culture and invest passionate energy in all relationships.
"Built on Unwavering Truth" – Build trust through unwavering integrity—matching actions to words and consistently speaking the truth. Become the reliable cornerstone upon which others can confidently rely.
"Empowering Collective Success" – Champion collective success by offering support, demonstrating empathy, and valuing team achievements above personal gain, creating a harmonious environment that propels everyone forward.
Eltra's vision is results-oriented and partnership-driven. We want both ourselves and our partners to benefit to the maximum from the quality and potential of the services we provide.
We are proud to be one of the few logistics companies in Eastern Europe that focuses on digitization and technologization of company activities.
We are constantly investing in equipment, digital technology and software for warehouses, picking, handling and storage as well as to optimize transport costs and dispatchers' actions.
All this to offer our partners transparency, efficiency, fairness and profitability.
Let's build amazing things together
Get in touch with us!
All requests are important to us, that's why we treat every person who contacts us as a true customer.
Enquiries, quotations, proposals or even feedback, one place to send them all.